22,368,900
Plastic Bottles Saved Annually
10+
Councils in 2019 alone
4
Awards wins/finals in 2020
The story of Ecofil begins all the way back in 1991 with Euro Refrigeration Group (ERG), established to cater for all refrigeration needs in Dublin.
30 years of undisputed commitment to superior customer service and unrivalled innovation later, ERG stands today as the largest refrigeration supplier across Ireland, representing brands such as the Delate, Press Up, and Louiz Fitzgerald Group.
After many years of leading the industry, ERG stumbled across an observation that the team knew deserved immediate attention… and so came the next chapter which would ultimately lead to the development of Ecofil!
And that observation was that the team recognised the detrimental affects that plastic waste was having on the environment. The team, wanting to take action in the battle against climate change, began developing a new range range of premium-filtered water solutions. 
The team officially launched as Icewater in 2014. Icewater made big splashes inthe hospitality industry and corporate sector, being adopted by European Headquaters for multinationals including Twitter, PWC, Survey Monkey, Intercom and many more. 
However, plastic bottles were not just limited to bars, restaurants, hotels and businesses. And so, the next chapter of the Ecofil story unveiled… 
Whilst Icewater flourished, saving plastic bottles by the tens of millions, the team noticed that many appliances often saw the end of their days due to hard water. Therefore, the team combined the best of the team's experience to form Euro Water Solutions (EWS), the Group's official water treatment brand.
Today EWS is constantly introducing the latest water filtration technologies to the Irish market for premium-filtered domestic and commercial water systems. Doing so has enabled Irish families to dramatically cut down on both costs and plastic waste!
With Icewater and EWS tackling plastic waste in almost all sectors, there was one last piece to the sustainable puzzle…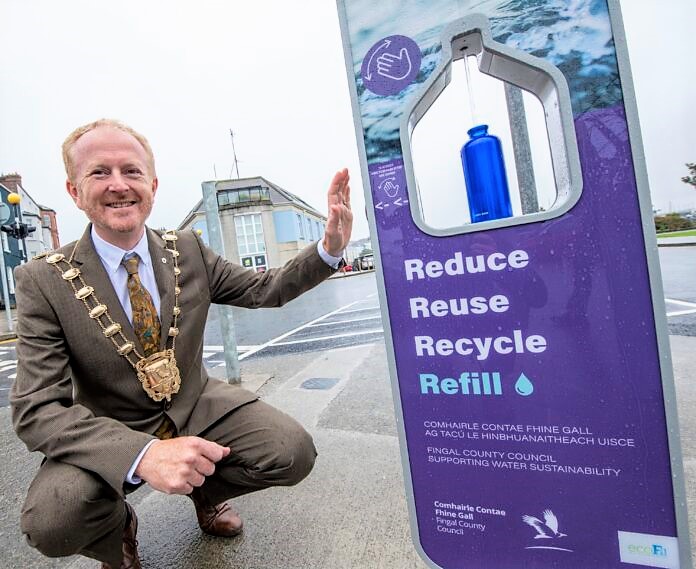 At this point, the Group had noticed that there was a number of vital sectors still remaining that were desperately in need of sustainable water solutions… educational institutions, gyms, shops, community organisations, businesses and City & County Councils.
To ensure that all sectors' needs were met accordingly, the Group partnered with world-leading brands including Oasis and Meetpat, officially launched the Group's bottle filling brand, Ecofil. 
The said initiatives saw Ecofil offer the most innovative water solutions to the mentioned industries and sectors, ensuring that sustainable targets could be met, and more recently, safely throughout Covid-19.
Today, the Icewater Group is responsible for saving over 22 million plastic bottles annually.